Anticipating Fall
Zara top // AG jeans // DVF pumps // vintage Coach bag (similar) // Ray-Ban original aviators // Brandy Pham bracelet // Miranda Frye cuff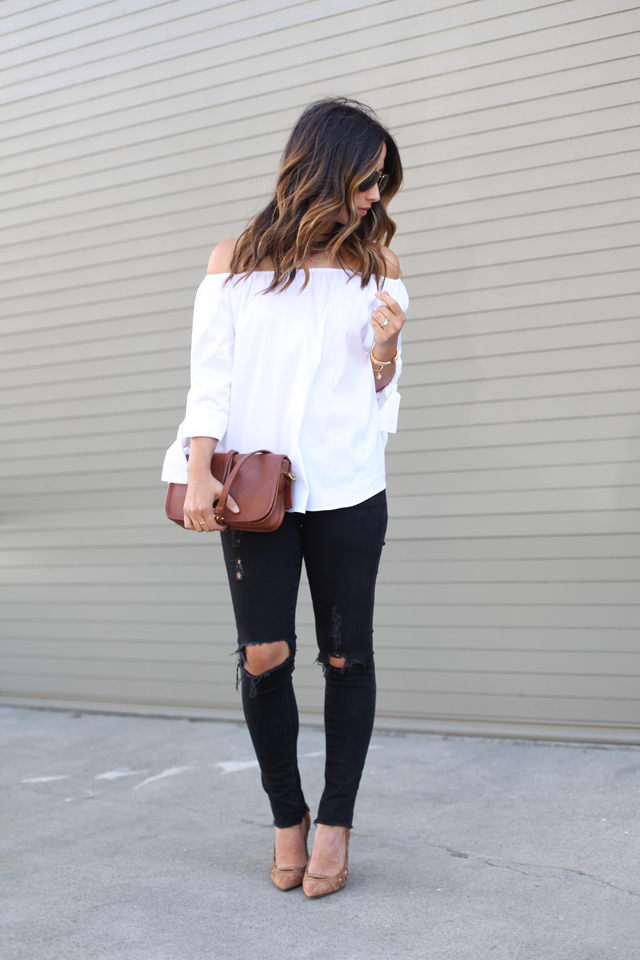 Photos by Natalie Dressed
I wasn't necessarily thinking too much about fall until this heat wave hit. I'm done. Mike went back to work, which for me is a sign of the end of summer and I'm just ready. Plus, I feel as though I've exhausted all my summer options. Considering they're a ton of cute new summer pieces that just came out (of course this happens), I've been tempted to make a couple more warm weather purchases, but I keep telling myself not to. We're way too close to fall, my wardrobe budget needs to be focused on lightweight jackets, denim, and booties. You feel me?
For those of you trying to soak in as much of this warm weather as possible, feel free to scroll past this this post. Fall is my favorite time of year and the more I start planning my new purchases the more excited I get. There will still continue to be summer style posts (we're in the middle of a heat wave), but I do have so fun fall related posts coming your way. This will include how to transition some of your favorite summer pieces into fall and my fall must haves. I will also be doing a huge closet clean out that will cater toward fall pieces over on Instagram at @shopcrystalinscloset, so stay tuned for that.
In outfit related news, this Zara off-the-shoulder top is nearly identical to the Tibi version for a fraction of the price. It does run large, so size down. Seeing as though I've really embraced the off-the-shoulder trend this summer, I can't wait to transition it to fall. This color combination will be on repeat as well. It couldn't be more classic fall, right?
S H O P  T H E  L O O K