10 Tips to Help you Dress Taller
Throughout my career of blogging I have learned a lot about my style, what works and what doesn't, and my shopping habits. I've learned how to dress for my body type and even how to dress taller. Being a petite there's a lot of trial and error when it comes to styles and brands. There's only so many petite styles out there, so you learn how to make regular pieces work. If you're petite, you know there's some pieces that either make you look taller or make you look shorter. We all know those pieces and avoid the ones that make us look even shorter than we actually are. While everyone has their own challenges when it comes to style, body type, etc., I can guarantee someone 5'5" and above can fit into a lot more pieces than someone 5'. It's been a challenge my whole career, but I've also learned some good tricks on how to dress taller and I'm sharing them below.
1. Wear High Waisted Bottoms – jeans, pants, leggings, shorts, skirts – I cannot stress this enough! I didn't realize how important high-rise bottoms were until last year. I look back at old outfit photos and I'm like, "why would I ever wear low or even mid-rise. My high waisted jeans, leggings, shorts, skirts have been an absolute game changer. I can wear so many different things and not look short and frumpy. As a petite you want as much of your legs to show, so always keep that in mind when you're getting dressed.
2. Tuck in your tops – This one goes hand in hand with high-rise bottoms. When you tuck in your tops, you're able to show more leg. Combine a tucked shirt with a high-rise bottom and you're all of a sudden 5'5" (okay maybe not, but you know what i mean). And by tucked I mean show your hips and just a slight tuck with some shirt hanging out. You want to show as much leg – this is always the key.
3. Go monochromatic – Monochromatic (wearing the same color) is a great way to look long and lean and it's my secret to when I want to wear something that would otherwise be unflattering. For instance, I wear all black with my brown pointed boots. Or I will wear black boots with black jeans and a different color top. This gives the illusion that the feet and legs are one, which ultimately elongates your legs.
4. Nude shoes are your best friend – I can't say this enough. Nude or skin color shoes really help elongate your legs, especially if you're showing off your legs. Nude pumps, mules, flats, sneakers – any and all. They're a game-changer for sure.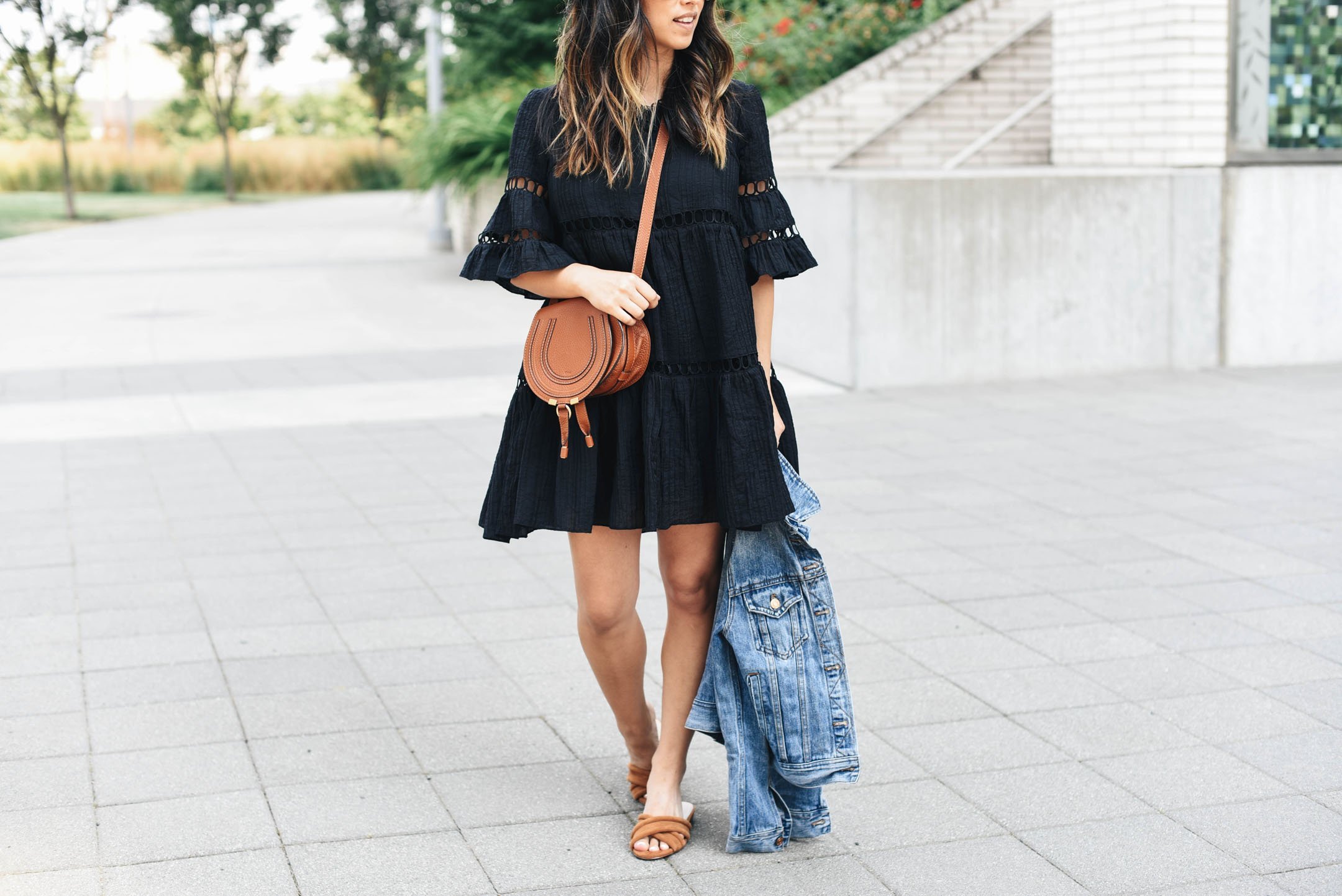 5. Wear your bag at the right length – I can't stress this enough. I see so many women on the streets and bloggers who don't wear their bags at the right length. Bags that are worn too long make you look short instantly. It's crazy to me that designers don't help with this. I even see tall women wearing their bags really long. TBH, I just think it looks bad in general. If you're petite your bag should sit on your hip. If you're taller I think you can have it sit just under your hip. This makes a world of difference.
6. Wear jeans that fit – don't roll or cuff – Buy petite jeans or get your jeans hemmed (I like to cut mine). My Banana Republic high-rise skinny jeans were a game changer for me. They're more of a legging jean and they hit at the perfect spot on my ankle. The leg opening is very narrow, which makes them super flattering. I'm able to wear these with booties and even sneakers, which I wouldn't normally wear with just any jeans. You want your skinny jeans to be as streamlined as possible – you don't want anything to cut off your legs like a cuff.
7. Short dresses or skirts should hit at least 2" above the knee – Petite style is all about proportions (bag length, oversized bags, showing as much of your legs as possible). Always keep this in mind. When you're wearing a short dress or skirt, you don't want it to run too long. Again, you want to show as much leg as possible. But, with dresses or skirts there's a fine line. You don't want them to be too short (no butt shots), but you don't want them too long. I know my perfect length for short dresses – always around 31" and 32" – this is my money spot. Once you know the length for you, don't buy dresses that don't hit that length. As a general rule, I want to say, it's at least 2" above the top of your knee.
8. Choose Mules – Mules allow your ankles to be free of anything, which ultimately elongates your legs. The best way to wear mules is with cropped jeans. Also, if you have small feet, mules allow for a little give. I have a small size 5 foot, so a lot of shoes don't fit and I get blisters. Mules have been another game changer for me. With mules becoming so popular, I have so many more options with shoes now.   
9. OTK Boots > Tall Boots – I received a ton of messages asking how to style tall boots on a petite frame. My answer, you don't! I don't own any tall boots because they don't work on a petite frame (with an exception to tall rain boots). I think there's a few out there that hit the right height with a narrow shaft, and are super flattering, but that's not the norm. If you're petite, don't buy the tall boots every blogger is recommending. They don't work on our frames. The proportions are all off and don't flatter whatsoever. I've done my fair share of trial and error. I stopped looking at tall boots and have gone strictly to OTK boots. The right OTK boots should be form fitting and not bulky. They elongate your legs and don't cut off your legs. Flat or heeled boots both work and look great paired with high-rise jeans!
10. Oversized bags are not your friend – I used to wear whatever bag and not think twice. I've worn a ton of oversized bags early in my blogging career and I look back and cringe. The bag completely takes over your whole body and looks so disproportionate. The bag is bigger than you and only makes you look smaller. I wear smaller handheld bags more in general now, but even with my Givenchy satchel I bought the small. When you see the bag by itself, it looks too small, but when you look at it on me, it looks like the perfect size.
SHOP THE POST