Recent Active Wear Finds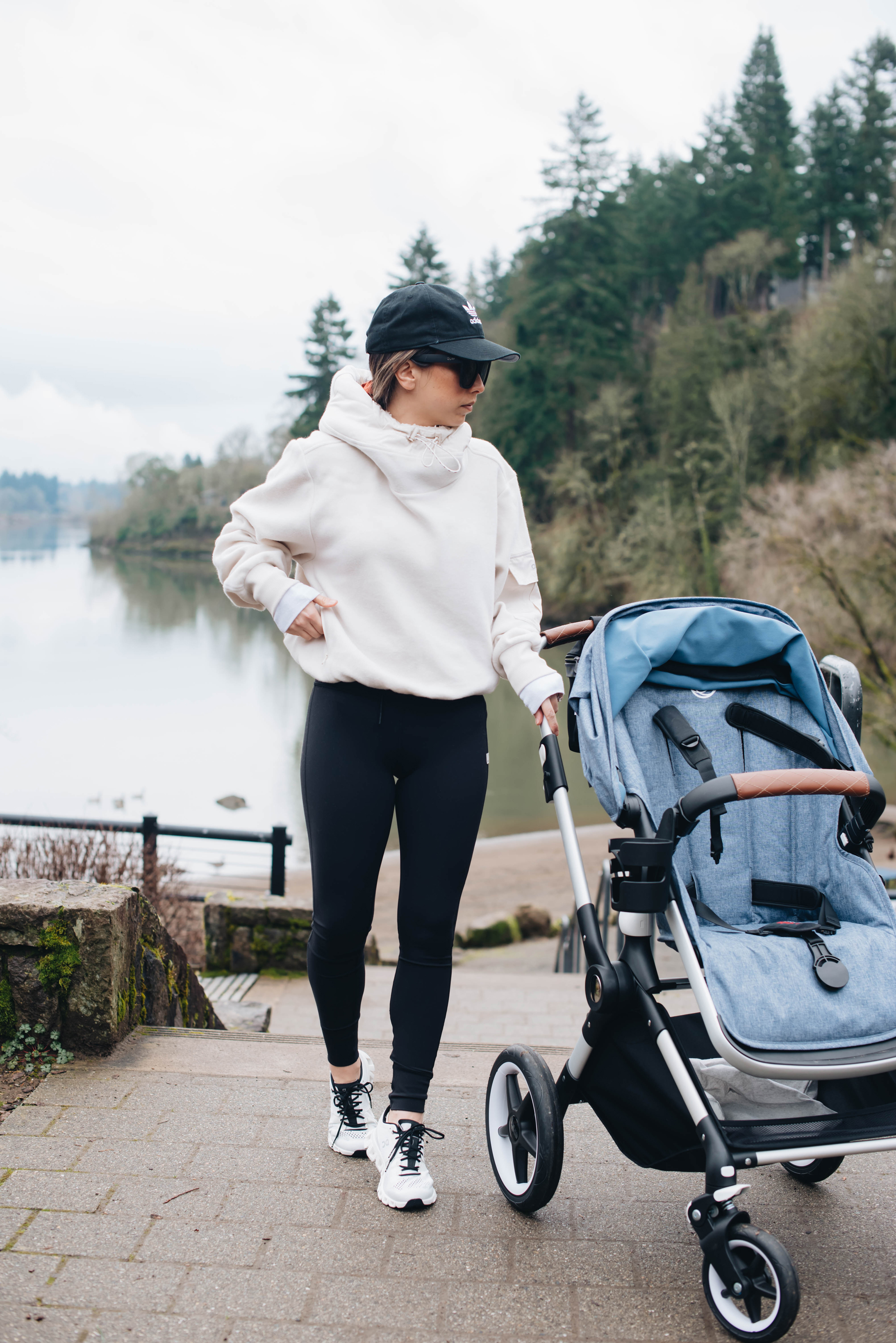 Mike and I recently ordered the Peloton and while we wait for it's arrival (March) we've been using their workout app. If you don't know, Peloton actually has all kinds of workouts in the app, not just for the bike. I'm actually very impressed. I love that their trainers are working out with you and they play great music, which helps pump you up. If you have the Peloton, I would highly recommend checking out the workouts in the app. My excitement for our new bike coupled with the hope spring weather is around the corner, has me picking up a few new activewear pieces. I recently found SO MANY great things at Nordstrom and I'm excited to share them with you.
Alo sweatshrit xs, Vuori leggings xs, ON Cloud sneakers 5.5, adidas hat, Quay sunglasses, Bugaboo Lynx stroller
This activewear haul was one of my favorites to date. I always try to order larger hauls because a lot of times only a few things end up working out (either fit is off or I don't like the item on). This time around, I LOVED nearly everything. If you're in the market for some really great activewear, you're going to love this post. Read on for all my reviews!
ON Cloud Training Shoes 5.5 – I've seen so many people start wearing ths On Cloud brand and since I was in the market for training shoes, I thought I'd give them a try. I absolutely love the black and white color combination. They're lightweight with lots of room in the footbed. They're super comfortable right out of the box, which is always huge when you're looking for great workout shoes.
ALO Chill Cargo Pullover xs – This pullover is so luxe and elevated. I love a large neck and this one does not disappoint. There's sherpa on the inside collar to keep you extra warm. It does run a bit oversized, but I like it. The pullover is fleece on the outside and I so wish it was the same on the inside, although I could see how that could get really hot. The color is always so pretty (an off white). If you're into big collars and hoods, this is a great elevated piece to wear to run errands or start you workouts in.
Vuori Daily Legging xs – Wow, I'm so impressed by these! I didn't own any Vuori before (a different story for Mike), so I didn't know what to expect. These are so soft and ridiculously comfortable! The material is less stretchy and more of the sweat wicking material, if that makes sense. I also love the drawstring at the waist. Some leggings can be tight in the waist, making them a little uncomfortable to lounge around in (tight and high waisted). These are not overly tight in the waist and the drawstring allows you to control it. They're also very elongating. If you're petite and in the market for flattering, versatile leggings, these are a must have!
---
More Activewear Try-On's
Vuori Pocket Performance Joggers xs – I'm sure you either have these or heard about them. The best performance joggers on the market! These are incredible and the length is petite-friendly! They're in-between a high and mid rise, but as someone who loves high rise, I don't have an issue with them. They're super soft and move with you. You can wear them to workout in, lounge around in, or wear to run errands. If you're in the market for joggers, these are a MUST!
New Balance Heat Loft Funnel Neck Quilted Top xs – I'm so impressed with this sweatshirt! I initially thought it could be stiff and snug, but it's soft, breathable, and moves with you (no stiff arms). I'm a sucker for a funnel neck and this one is on point. It also has a pull tie to cinch the waist, which is always a great detail to have. It helps the sweatshirt sit right at your hips, elongating your legs. I LOVE this piece, I think I need the black as well!
Outdoor Voices Ready Set Short Sleeve T-Shirt xs – I don't own a lot of workout tee's, I mostly wear tanks, but I loved the idea of this one. Simple, classic, but moisture wicking. It's more of a boxy, cropped style, but it works for activewear because there's room to move and it tucks well into high waisted leggings. Love this piece!
Spanx Get Moving Shorts xs – I'm super picky when it comes to my workout shorts. Either shorts are too sporty or you have biker shorts. I like something in-between and it's not always easy to find. I like my shorts to be short because I'm petite, but a lot of times short shorts aren't always appropriate around people. I love that these are a combo – they bring the best of both worlds. And they're so comfortable! They're also high waisted, which I love! Highly recommend these!
Outdoor Voices Springs ⅞ Leggings small (need the xs) – I have these in another color variation, but wanted to try this color. The website says they run small and from my experience they sort of do. I sized up, but the small is way too big. While my old leggings are from years ago and sizing could be different now, I would say these run TTS. I have to exchange these for an xs. But in general, I love these because they're different. I usually stick to black leggings, so these are fun but still neutral.
Strut This Mason Splatter Sweatshirt small – I thought this could be a fun sweatshirt to lounge around in – something different from what I normally wear. I love the paint splatter look in the neutral color. The smallest size is a small, which is what I ordered, but it runs pretty oversized. If you're normally a small, I think this could work for you, but on my frame, it's a little too overwhelming. The material is thin and super soft. It does pass my test for comfort for a sweatshirt, it's just sadly too big on me.
Vuori Restore Crewneck Sweatshirt xs – Simple sweatshirt, yes! But so luxe and amazing. The fit alone had me (roomy, slightly oversized), but the sweatshirt is well made and SO SOFT. I love the cinched waist with ties, too. The color is more of an off-white with a hint of blush, it's really stunning! I don't need another sweatshirt, but this one is hard to resist. One of the best sweatshirts I've found and that's saying a lot (I own a lot).
Be sure to check out all of Nordstrom's activewear here!
---
SHOP THE POST


Special thank you to Nordstrom for partnering on this post.