March Instagram Outfit Details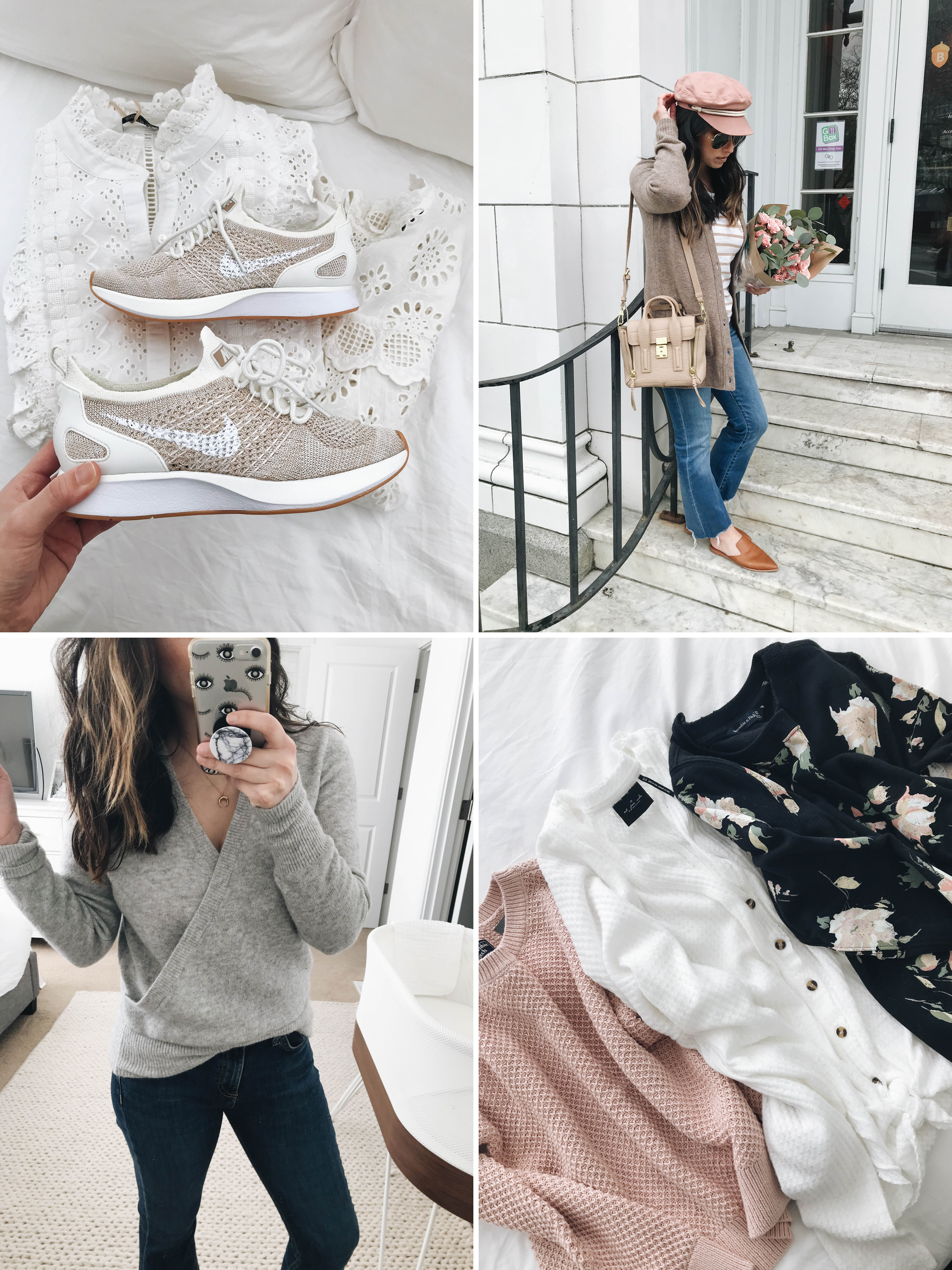 Happy Monday! How was your weekend? Harper learned to roll over from back to belly, so things have been quiet eventful the last couple of days. She's normally swaddled when she sleeps, but once they start rolling, you can't have them swaddled. Let's just say everyone in the Da Silva house has gotten little to no sleep. While rolling over is a natural progression and they eventually get used to it, Harper DOES NOT sleep when her arms are loose. She's too busy. We're going to try the Merlin Magic Sleep Suit (which arrives today), to help with the transition. Crossing our fingers.
In other news, I'm sharing details from my March Instagram outfits. Let me know if you have any questions about sizing and fit. Enjoy!
Zara embroidered top xs, Zara eyelet top xs, Nike Mariah sneakers 5
Madewell Whisperer tee small, Madewell cardigan xxs, Madewell jeans 24, Madewell mules 5, Brixton hat, 3.1 Phillip Lim mini pashli in cashew, Ray-Ban original aviators
Janessa Leone Alara hat, Zara top xs, MAC lipstick in Yash, MAC lipliner in Nice N' Spicy
Halogen top petite xxs,  Rag & Bone cropped flare jeans 24, Gucci Dionysus bag small, Nuna Mixx stroller
Boohoo waterfall jacket petite 0, Aritzia sweater xxs, Madewell jeans 24, Stuart Weitzman Thighland boots 4.5 (similar style in same color), Gucci Dionysus bag small
Patagonia fleece xs, Asos hat (sold out, similar), Outdoor Voices leggings, Nike Thea sneakers 5, J.Crew beanie (sold out)
Socialite thermal xs, Zara leather jacket (old, identical), Beyond Yoga leggings xs, Nike sneakers 5, Givenchy Antigona satchel small
Alternative Apparel hoodie S, Z Supply tee xs, AGOLDE jeans 24, Golden Goose sneakers 5, Portland Gear hat
Alo hoodie, Zella midi leggings xs, Nike sneakers 5, Ray-Ban black aviators, Nuna Mixx stroller
Abercrombie & Fitch pullover xs, Alo midi leggings xs, Nike sneakers, 3.1 Phillip Lim mini pashli
From left to right: Mariella Vilar monogrammed tote (similar), J. McLaughlin round bag, Clare Vivier Alice tote small, Clare Vivier Alice tote large, Serpui round bag, Cult Gaia ark bag small
Left to Right: Abercrombie & Fitch pink sweater xs (runs short), Urban Outfitters white thermal xs (fits oversized), Abercrombie & Fitch floral sweatshirt xs
Madewell sweater xxs, Rag & Bone jeans 24, Maria Pascual necklace (similar)
SHOP MARCH INSTAGRAM OUTFITS