My Non-Maternity, Maternity Style (so far)
Today's blog post is all about non-maternity, maternity style. I have yet to dive fully into maternity clothes yet, but I have a feeling I'll be getting there soon. Throughout my pregnancy my goal is to continue wearing everything I possibly can that's already in my closet. With that being said, I'm already struggling when it comes to jeans/pants, so I'll need to find some solutions soon. Since I plan on wearing non-maternity clothes for the most part, I hope my pregnancy style will resonate with both women who are pregnant as well as those who aren't. If I do style a maternity piece, I will also offer a non-maternity option, so you're able to easily recreate my look no matter where you are in your life.  
Madewell tank dress small, Loft jacket petite xxs, Sarto by Franco Sarto booties 4.5, 3.1 Phillip Lim mini pashli in cashew, Ray-Ban original aviators 58mm
S H O P  T H E  L O O K :

My Pregnancy Style So Far
I'll be honest and say, I haven't had the best time getting dressed since being pregnant. At first, everything still fit, so it wasn't a big deal. Now that I'm 5 months pregnant, I've been rotating the same 5 pieces and it gets boring. It's also been crazy hot here, so I really haven't had a ton of options. I did just order a bunch of things from Abercrombie & Fitch and Gap, so hopefully I'll have a few more options to add to my rotation. Last night we headed out to dinner and I was excited because the weather was a nice 70 degrees. I went to try on a few pairs of jeans from my "pregnancy' stash that I've saved over the years, only to find out they all don't fit. I totally missed the time frame where those would have worked (thanks a lot heat wave). It also made me feel HUGE. Not something I recommend if you're feeling a little down about nothing fitting. In general though, I'm all about comfort when it comes to my pregnancy style. Everytime we walk the dogs, I ask Mike if my outfit looks like a "mom outfit." I could see how some women could get offended by this, but I happen to love it. I'm just in a whole different place in my life, so for me, comfort is absolutely key and I take pride in it. Sneakers with basically everything is my moto lately, lol.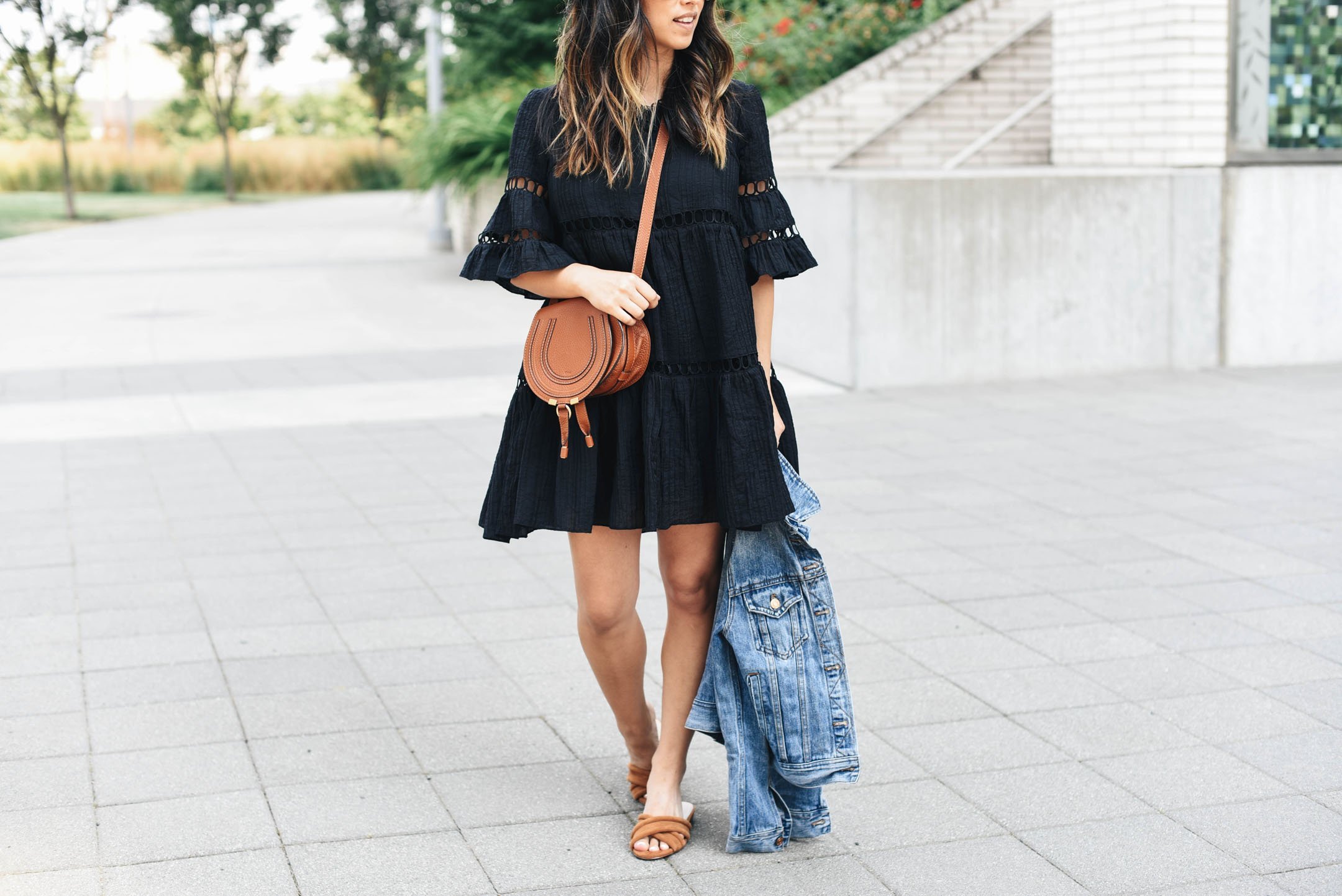 Anthropologie dress petite xxs, J.Crew denim jacket xs (runs small), Chloe small Marcie bag, Ann Taylor sandals 5, Ray-Ban original aviators 58mm
S H O P  T H E  L O O K :

What to Wear During Pregnancy in the Summer
If you're pregnant and wondering what to wear during pregnancy in the summer, this post is your answer, DRESSES. Dresses have saved my life so far and I'm not going to lie, it feels a little weird. If you've been reading this blog over the years, you know I'm a denim girl at heart. I've never owned a ton of dresses, so when I find myself constantly searching for dresses to fit my bump, it's all a little surreal. Times have changed, for sure! Dresses are a great way to dress your bump without having to buy maternity clothes. You don't have to worry about them fitting over your growing hips and stomach and let's face it, they're the most comfortable option. You can also hide your bump with a flowy swing dress, or show it off with a fitted tank dress. Meanwhile you're still comfortable and you're not constantly reminded how big you're getting in those moments where you have to unbutton your jeans. Anyone else feel me? The other nice thing about dresses, depending on the style, you can easily transition them from summer to fall. Throw on a drape-front trench, leather or denim jacket, and booties and you're good to go.
Knot Sisters dress xs (old, similar), Madewell lace up sandals 5, 3.1 Phillip Lim mini pashli, Ray-Ban silver mirrored round sunglasses
S H O P  T H E  L O O K :

Best Non-Maternity, Maternity Dress Styles
Tank Dress

T-Shirt Dress

Shirt Dress

Swing Dress
I'm no dress expert, but I can tell you what has worked for me so far. Some of the dresses you see in this post I already had in my closet pre-pregnancy and the others I would wear even if I wasn't pregnant. Tank dresses are super easy to wear. They're essentially used as a base where you can then pretty much throw on anything with it (denim jacket, drape-front trench, long cardigan, leather jacket, utility jacket, etc.). They're versatile, but just know they really show off your bump. Depending on the brand, I typically like to size up a few sizes, so they're not too tight and uncomfortable.  T-Shirt dresses are also easy to throw on. They're comfortable, can be layered, and worn throughout your entire pregnancy. So far, I haven't needed to size up, but this may also depend on how far along you are. Shirt dresses are another chic option. Typically shirt dresses have a boxy, straight shape to them, so you don't always have to size up. I owned my shirtdress before I was pregnant and it's still going strong with even more room for my bump to grow. With this particular shirtdress, you can't even tell I'm pregnant, which in some situations is nice. Swing dresses are also a great non-maternity, maternity option. Swing dresses can be oversized, so I would recommend going with your normal size. I love this one from Anthropologie. It's simple with pretty details, which is a nice way to elevate the dress. If you're petite, this is a great dress option for you as it hits at the perfect length on me. Easy, breezy, and perfect for a growing bump.  
Aritzia dress (sold out, similar), Janessa Leone Ainsley hat (sold out, similar), Ray-Ban silver mirrored round sunglasses, 3.1 Phillip Lim mini pashli, Ancient Greek sandals 5
S H O P  T H E  L O O K :

How to Not Buy Maternity Clothes
If you're like me and trying to get as much use out of your closet as possible and not go overboard on maternity clothes, below you'll find a few tips I have to on how to not buy maternity clothes.
Wear all your oversized pieces in your closet – If you own a lot of oversized styles already, you've done yourself a favor without even knowing it. Thankfully, many pieces in my closet are oversized (it's just the way I like to wear my clothes), so I'm still able to wear them. I would say, I can still wear everything in my closet except shorts and jeans.

Buy a belly band – I have yet to try this out, but it has been recommended to me once we head into fall and I'll want to wear jeans. I can't speak on how comfortable this is, but if you own one or have used own, I'd love to hear your thoughts.

Go a couple sizes up – If you're unable to find cute maternity clothes, stick to non-maternity pieces and just go up a few sizes. I know I've done this with shorts from Abercrombie & Fitch.

Wear dresses – As you know, dresses have saved my life for the first half of my pregnancy. I haven't really had to go up in sizes, so even though you now have a million dresses in your closet, you'll be able to wear them post-pregnancy as well. It's all about getting the most bang for your buck.
Rebecca Taylor dress size 2 (sold out, similar), Michael Michael Kors sandals 5.5, Cult Gaia ark bag small, Ray-Ban silver mirrored round sunglasse
S H O P  T H E  L O O K :

Best Places to Shop Non-Maternity, Maternity Clothes on a Budget
I recently did a big order at Abercrombie & Fitch. I love that they're clothes have a lot of stretch to them and you'll find a bunch of basics at affordable prices. This tank dress is super cute and this t-shirt dress is so comfortable! Gap and Old Navy tend to run big, so you can either go TTS or go up one size for a comfortable non-maternity, maternity fit.
Aritzia shirtdress xxs (old, similar), Brixton hat (old, similar), J.Crew tote (old, similar), Stuart Weitzman gladiator sandals 5, Ray-Ban original aviators
 S H O P  T H E  L O O K :

Best Places to Shop Non-Maternity, Maternity Clothes Splurge
Non-Maternity, Maternity Splurge Finds

For variety, quality, and top trends, I love Nordstrom and Shopbop. They've been my go-to's for the last decade, so they're my obvious choice for non-maternity, maternity options. Prices might be higher than the stores above, but quality, customer service, and fast and free shipping are huge perks. I've heard great things about this dress and you can't go wrong with classic stripes.