YSL Tribute Slide vs. Hermès Oran Sandals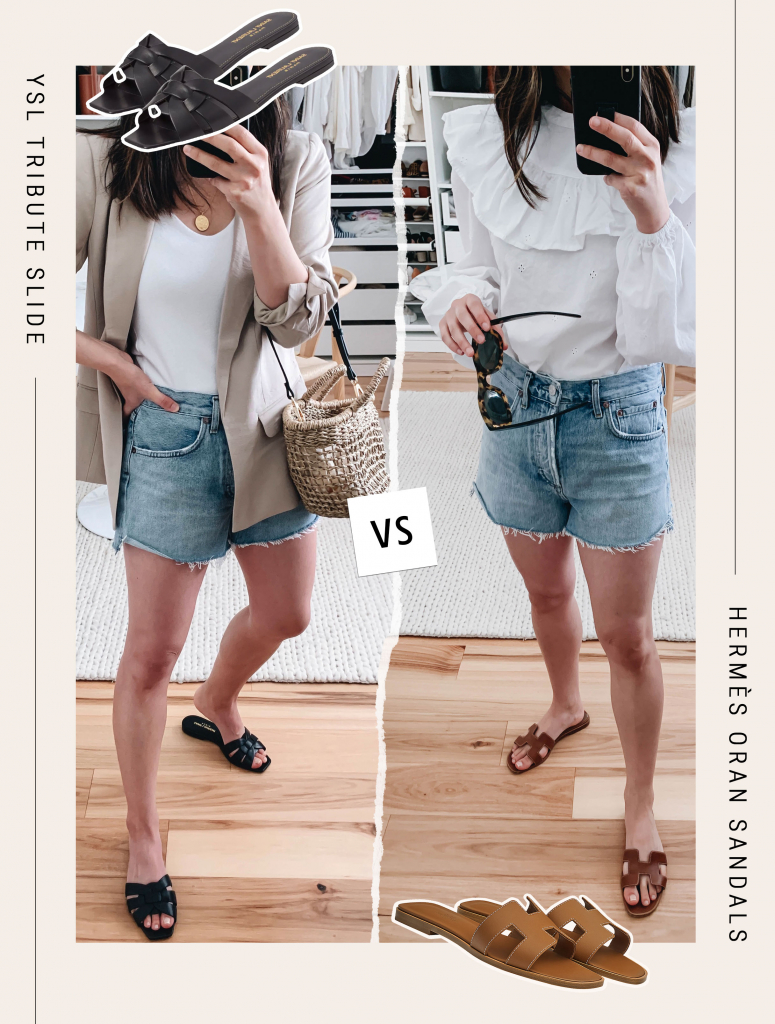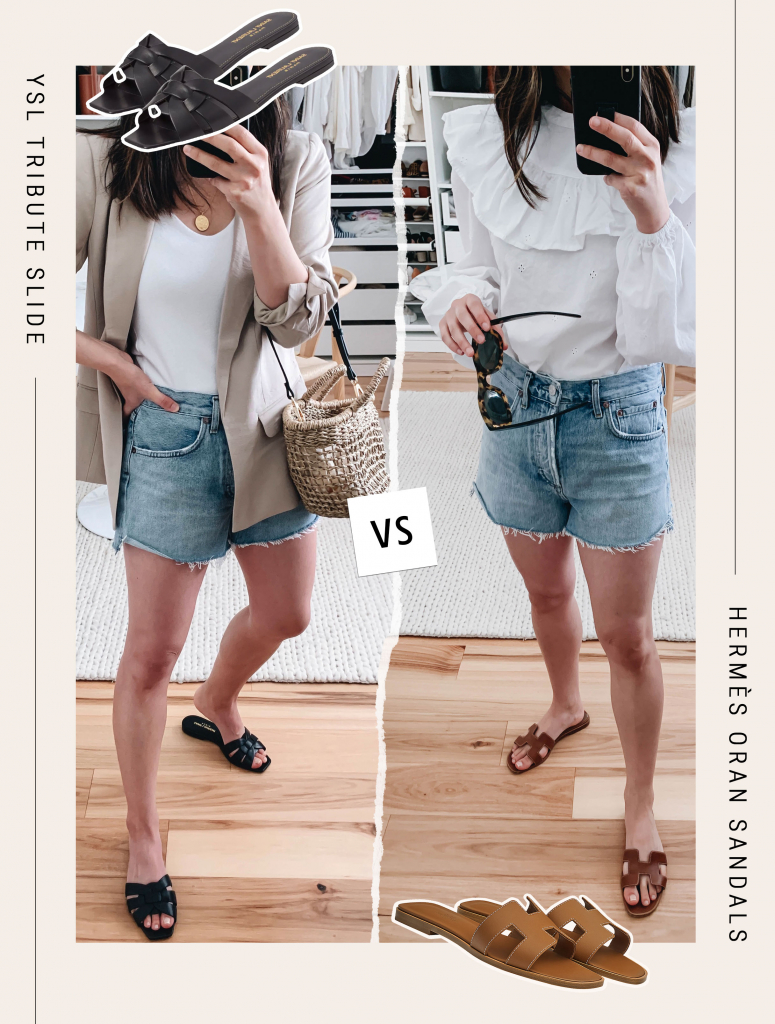 This blog post has been a long time coming. I've been getting asked to compare my YSL Tribute Slides with my Hermès Oran sandals every summer since I've had both shoes. I'm so happy to finally sit down and share my thoughts just in time for summer.
Let me start by saying, both sandals elevate your outfit. If you're looking for a sandal that will help take your outfits to the next level without really thinking about it, you can't go wrong with either. You can pair these with a fancy dress or something as simple as jeans and a white tee. They both pair well with shorts, dresses, jeans, anything, really – they're a very versatile style. In terms of cushion in the footbed, neither of them have much. These aren't a super cushion-y/comfort style sandal. They are both also really flattering on the leg. The simple design with not a lot of straps, and a bare ankle, these elongate your legs like no other.
YSL Tribute Slides $595
I love the look of the YSL Tribute Slides off the foot, but for some reason they're not my favorite on my feet. These run narrow, especially in the toe area, and my toes aren't the most narrow. It also feels like my foot is wider than the footbed, which makes them not so flattering on my feet. Aside from being narrow, I do feel like these run small and would recommend sizing up at least a half size (I almost wish I exchanged for the 5.5).  The Tribute slides also take time to wear-in. These are not comfortable right away. The band is very snug, I actually wore them with socks around the house to break them in initially. And then it still took more wears to make them comfortable. The strap on these are closer to your toes than the Hermès, so you're only seeing a little bit of toe.
Hermès Oran Sandals $630
I absolutely love my Hermès Oran sandals. I went with my normal size, but when I took them out of the box and tried them on, I did feel like I could have gone with the 34.5. I didn't want to exchange them, so ended up keeping the 35 and overtime I got used to the fit and now feel like they're TTS. With that being said, I also feel like my feet grew last year, lol. To not confuse you, if I were to order another pair, I would get the 35 (so TTS). The more you wear these, the more comfortable and relaxed the leather becomes. The band is big and roomy, so if you have narrow feet, these might not be the best for you. The band also hits at a great spot on your foot, allowing you to see all your toes (the pink toe gets hidden a bit), versus the Tribute sandal (where you're only getting a peek of your toes). This sandal is SO classic, which is why I love them so much. They pair well with EVERYTHING! I've been meaning to get another color and I think I'll splurge on the white for summer. Quality wise, they're great. I've worn these to death over 3+ years and they're holding up well (and I didn't treat the leather).
Overall Thoughts
I would 100% recommend the Hermès Oran sandals over the YSL Tribute Slides. I've worn the Hermès Oran sandals for 3 straight summers and they're still a go-to and favorite. Just like any classic investment shoe (Gucci Princetown mules, GG Sneakers), they're definitely worth the purchase if, 1. You get a lot of wear out of them 2. You have outfits to wear with them, and, 3. You're looking for those versatile pieces that will be in your closet for a lifetime and will elevate your wardrobe. The Hermès Oran sandals are a little pricier than the YSL Tribute slides, but at that price point, it's worth spending $35 extra dollars on the Oran sandals.