5 Must-Have Fall Shoe Styles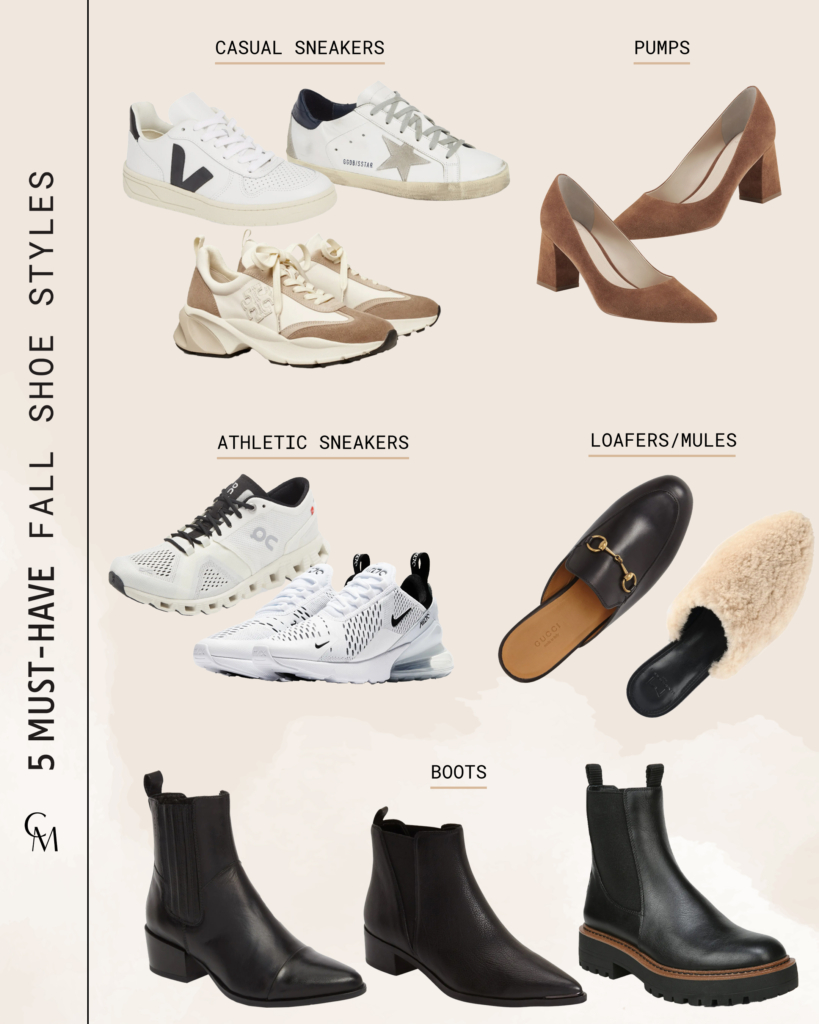 I get so many questions about shoes in the fall, so I figured it would be helpful to share my 5 must-have fall shoe styles everyone should have in their closet. The best part, you probably already have a variation of these in your closet. And if not, and you're feeling lost, this is a simple guide to follow. Nordstrom has always been my go-to when I'm looking for shoes. They have all the classics and all the trends. They also tend to carry all the small sizes (just FYI for fellow petites). A lot of the shoes I'm sharing have been in my closet for years, but I did pick up a few new styles I'm super excited to share with you.
1.CASUAL SNEAKERS
Once the temps drop, I like to swap my sandals for my casual sneakers. I'm all for casual outfits and also love to add a more masculine touch to feminine outfits, so sneakers are a go-to for me. Casual sneakers can really be worn with anything, really – jeans, skirts, dresses, leggings, joggers, sweat sets.
Veja V-10 Sneakers (us 4, EU 35) – Don't ever underestimate a black and white shoe. These are not your basic white sneaker. There's something about the black and white contrast that really makes these pop and elevates any outfit. These aren't the most comfortable sneakers of all time, but I do love the way they look. They take some time to wear in and has you'll read in most reviews, the tongue is pretty stiff. I have a little trick for tucking the tongue under in my Stories highlights. Sizing is also a little weird. These run big, I take the US 4/EU 35.
Golden Goose Sneakers 35- I get so many questions about GG sneakers. I love them so much that I have several pairs! They're comfortable, run TTS, and elevate just about any look. If you're into sneakers, these are a great investment that will last you years.
Tory Burch Sneakers 5.5 – I'm always in the market for new, neutral, casual sneakers. These from Tory Burch are so beautiful. They do run small, though. You'll want to go up at least a full size. These have more of a dad sneaker vibe with a thicker sole, but I love that about these. The taupe/brown color is a great neutral and will work with so many fall outfits.
---
2. LOAFERS/MULES
I'm a big mules person, only because I have a hard time fitting into flats or loafers. My feet are an odd size – in full backed shoes like flats and loafers, I always get blisters on my heels. Does this happen to you? Anyway, loafers are really big this season, but if loafers are not for you, mules are a great alternative. I love pairing them with straight leg jeans or even joggers. Loafers/mules are chic, elevated, and another easy shoe to elevate a simple outfit.
Gucci Mules 5- I can't recommend the Gucci mules more. I always get asked if they're "worth it" and in my opinion, 100%. I've had mine for 3+ years and they've held up well and I still reach for them all the time. For me, they run TTS and were comfortable right out of the box. I'm a flats over heels girl through and through and these are the perfect pair to elevate any outfit while still allowing you to be comfortable.
Marc Fisher Mules 5 – These are the BEST Jenni Kayne shearling mule dupes I've seen and tried on! These are so fantastic! They run TTS, super comfortable right out of the box, and I know the shearling will wear really nicely over time.
---
3. BOOTS
Shopping for boots can be overwhelming, especially since styles and trends change every year. There are a few style of boots that are forever classic that you should have in your closet. With that being said, I always say, the best shoe/boot style is the shoe you reach for the most, regardless of trends. Find a pair of boots that work in your wardrobe, that are comfortable, and that you know flatter your style and body. This is the most important part of styling boots. A few rule of thumbs with boots – ankle boots should have short shafts, boots with longer shafts should fit snug and be worn under your bottoms (jeans, skirts, dresses).
Vagabond Shoemakers Boot 6 – These are hands down my favorite purchase from the sale. I always looks for the perfect black bootie in the fall and winter and I can officially say, I found them. And they're at such a good price. These are the perfect bootie to wear with straight leg jeans as the shaft is snug and high. I would typically stay away from wearing a higher shaft with skinny jeans or leggings, but these will work with black leggings to skinny jeans. The shaft is snug so it will help keep you pants tucked, too. These have a more everyday vibe versus the Frame boots, if that makes sense. They can handle wear and tear better. The 6 fit me well and they're comfortable.
Marc Fisher Chelsea Boots 5 – I've had these for 3+ years as well and still reach for them all the time. These are the only flat boots I own and wear. As a petite, flat boots aren't the most flattering, so I'm very picky about what I'll wear and recommend. I get SO many questions on the best flat boots for petites and I always recommend these, in black. The pointed chelsea style is elevated, chic, and a bit edgy. The shaft isn't too high, so they're still flattering on the legs and they look amazing with black skinny jeans. On top of all that, they're SUPER comfortable. My only tiny complaint, I wish they were a bit tighter and form fitting to the foot. Although, mine are old, so the new version might be better with this.
Sam Edelman Laguna Chelsea Boots 5.5 – My new favorite lug/Chelsea boot! I wasn't sure I could jump on the chunky sole boot trend, but these are actually flattering. The fitted shaft really helps to elongate your legs and helps balance out the thick sole. These come in an assortment of different colors. And, they're water proof! I got the 6, but need the 5.5. If you're looking for boots like these, look no further, these are it!
---
4. ATHLETIC SNEAKERS
Athletic sneakers are a go-to for me once we enter fall. I love finding elevated, chic, neutral options that can tie into more of my athleisure outfits. They're also a great shoe to wear when you want to bring comfort to just about any outfit (a mom-on-duty essential, for sure!).
Nike Air MAx 270's (size 6)- The most comfortable Nike sneakers I've owned! I went up a half size, but I even think you can go up a full size. I'm normally a 5.5 in Nike and got the 6 (and normally a 5 in all shoes). I've gotten so much wear out of these already and they're not even a year old. These are overall great athleisure sneakers and you could even workout in them (I wouldn't run in them). They provide a little added height, which I'm always a fan of. Love how chic they are too!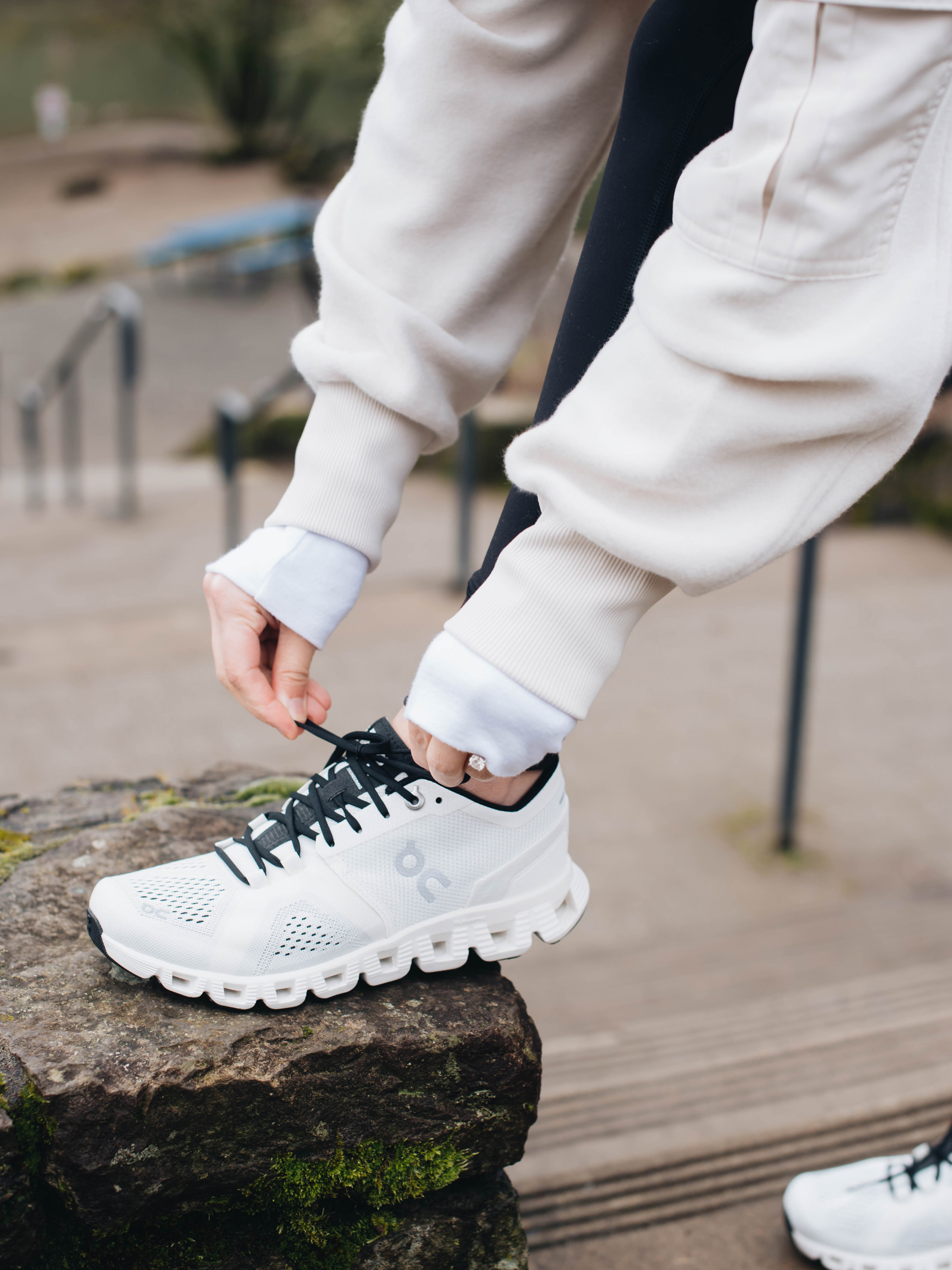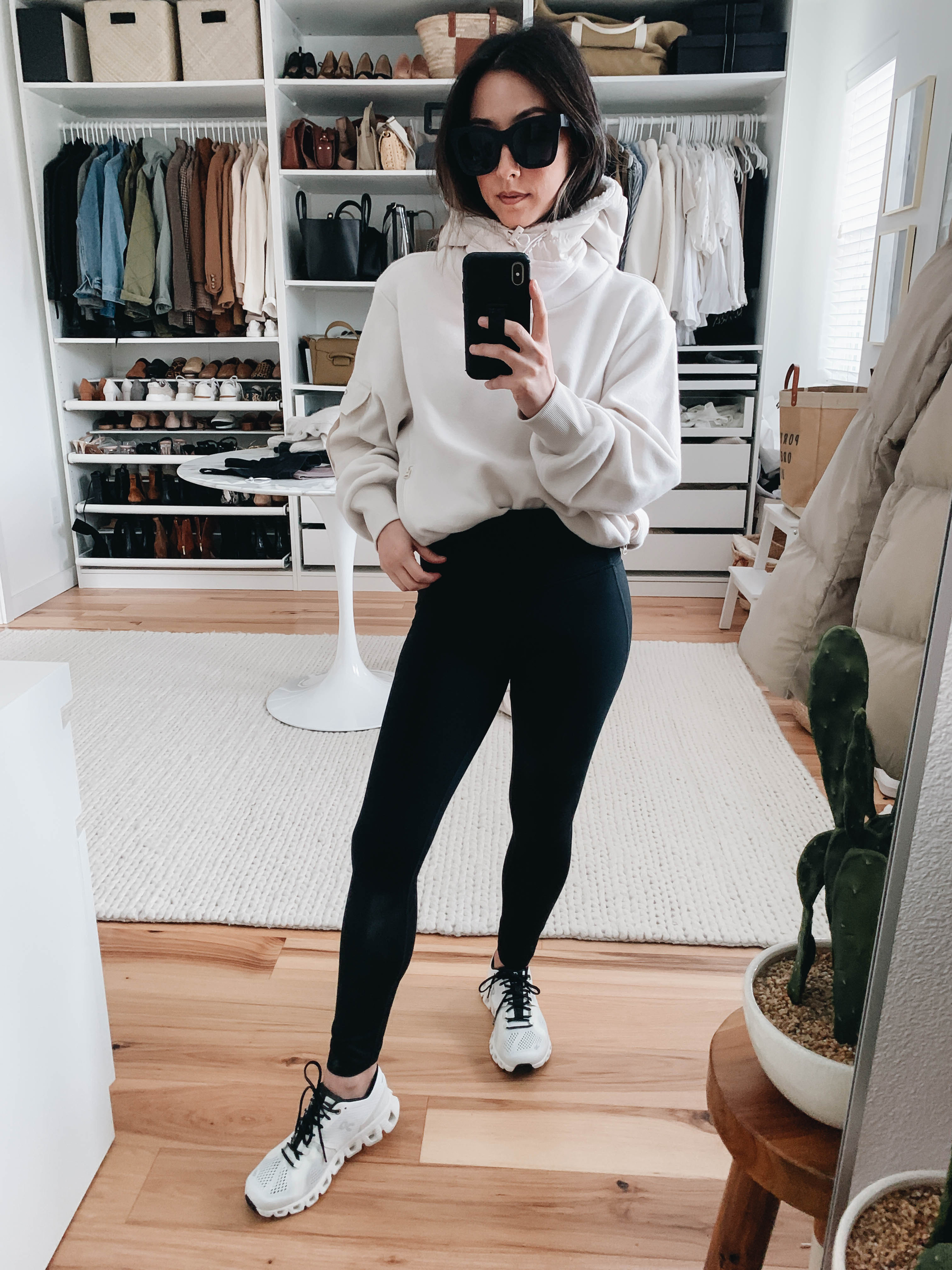 On Cloud Sneakers (6)- I haven't had these for that long, but I already know how I feel about them, lol. It's funny because I saw a few bloggers wear them before I thought about buying them, but didn't think I could get on board with the style. Seemed very clunky and different. Ha, wrong! I love these, they're so comfortable, lightweight, and the black and white is so chic and goes with everything. These are great to workout out in, take long walks, basically anything active (although I wouldn't run long distance in them). I went up a full size in these.
---
5. PUMPS
I haven't really worn pumps since pre-quarantine, so it's a little unfamiliar these days. But, if you're headed back to work or slowly getting back into the swing things, pumps are an absolute essential for fall. They pair well with trousers, wide leg, straight leg, and skinny jeans. The biggest struggle with pumps, finding the right style to that's versatile enough to wear with everything in your closet and comfortable enough to actually wear.
Zala Pumps 5 – I've tried many different pump brands over the years, and I 100% prefer the Marc Fisher Zala pumps. They come in an assortment of different colors every year, the heel height is so wearable, and they run TTS. These pair well with skinny, straight, and wide leg jeans, trousers, and midi skirts.

Special thank you to Nordstrom for partnering on this post.