My Favorite Nordstrom Purchases Of All Time
I've been collecting closet staples from Nordstrom for years now, so I thought it would be nice to break down some of my favorite purchases of all time from the retailer. To be fair, these are mostly wear-now pieces and there are a handful of items that should be in this post that are more fall/winter appropriate. I will actually add to this post later on this year so it's a little more cohesive and really reflects my all time favorite purchases from Nordstrom. Until then, read on for more in-depth reviews of each item.
I've mentioned it before, but I really love that Nordstrom carries such a vast selection of products. I love checking out their Topshop & Trend section, I always find affordable finds in their Nordstrom Made section, but they're also my go-to for classic, closet staples. It's my one-stop-shop for the family and their $12 2 business day shipping is so convenient.
Nike Air MAx 270's (size 6)- The most comfortable Nike sneakers I've owned! I went up a half size, but I even think you can go up a full size. I'm normally a 5.5 in Nike and got the 6 (and normally a 5 in all shoes). I've gotten so much wear out of these already and they're not even a year old. These are overall great athleisure sneakers and you could even workout in them (I wouldn't run in them). They provide a little added height, which I'm always a fan of. Love how chic they are too!
Veja V-10 Sneakers (us 4, EU 35) – Don't ever underestimate a black and white shoe. These are not your basic white sneaker. There's something about the black and white contrast that really makes these pop and elevates any outfit. These aren't the most comfortable sneakers of all time, but I do love the way they look. They take some time to wear in and has you'll read in most reviews, the tongue is pretty stiff. I have a little trick for tucking the tongue under in my Stories highlights. Sizing is also a little weird. These run big, I take the US 4/EU 35.
Quay After Hours Sunglasses – My most worn sunglasses of all time! I have a pretty small head/face and these are oversized, but I don't think they're too overwhelming, just an FYI. The smoke color pair I own are very old, which is why you don't see the Quay logo on the frame (I got them before they started doing that). The all black are really chic and elevate any outfit. Hands down one of my favorite Nordstrom buys. 
Toddler Hunter Rain Boots – These have always run really big, but Harper got the most wear out of her pair last year. We've taken these to the Christmas tree farm, pumpkin patch, and she would spend days running in puddles (great for anywhere and anything I knew her shoes would get thrashed).  I think if we stayed in Oregon, she would have gotten more wear out of them. But just in general, they're a great slip-on shoe for kids. They're great quality and adorable.
Gucci Princeton Mules (35) – I've had my mules for over 4 years now and I can't recommend them enough. I always get questions whether or not they're worth the investment and I say, yes, every time. If you wear flats, then you'll get a ton of wear out of these. They're classic, comfortable, and elevate any outfit. They run TTS for me. If you have issues with mules slipping off your feet, these won't be any different. I know I get a lot of comments about that – mules aren't' for everyone, which I totally get.
Toddler Converse Sneakers – Harper has had 2 or 3 pairs of these white Converse.  They're so classic and adorable in the toddler sizes. I really love to pick out shoes for Harper that work with the rest of her wardrobe and these really do go with everything. These do run big, so you may need to size down.
Toddler Native Jefferson Slip On Shoes – I absolutely love the style of these. They're so cute and don't look like the typical kid shoe if you will. We've gotten these every year Harper has been walking and we both really like them. I typically get the white and light pink. I love that they're waterproof, so she'll wear them anytime we do water play, to the beach, to the pool, and she'll also wear them in the summer as regular shoes. They're comfortable, lightweight, and easy to get on and off. They do run slightly big.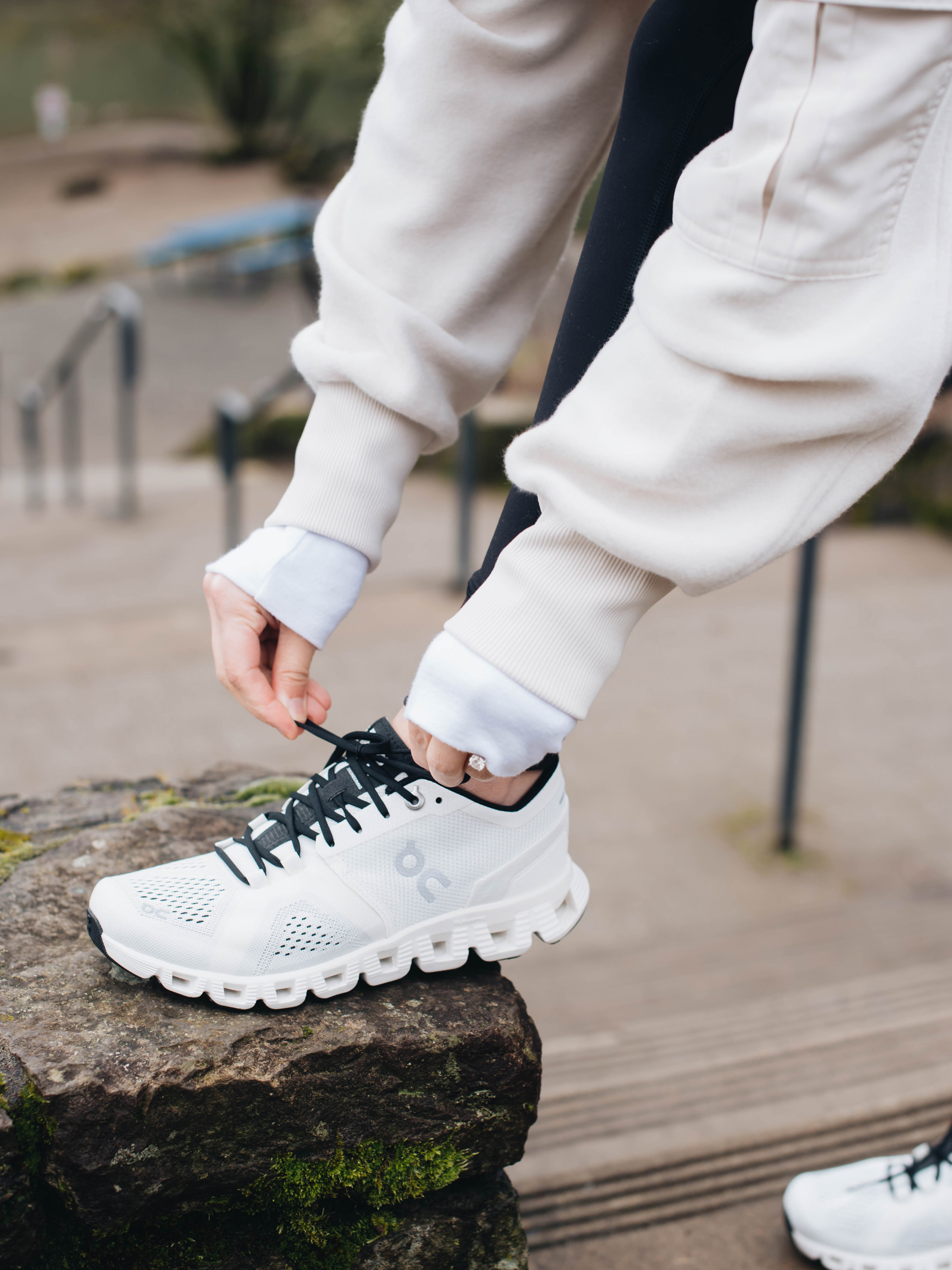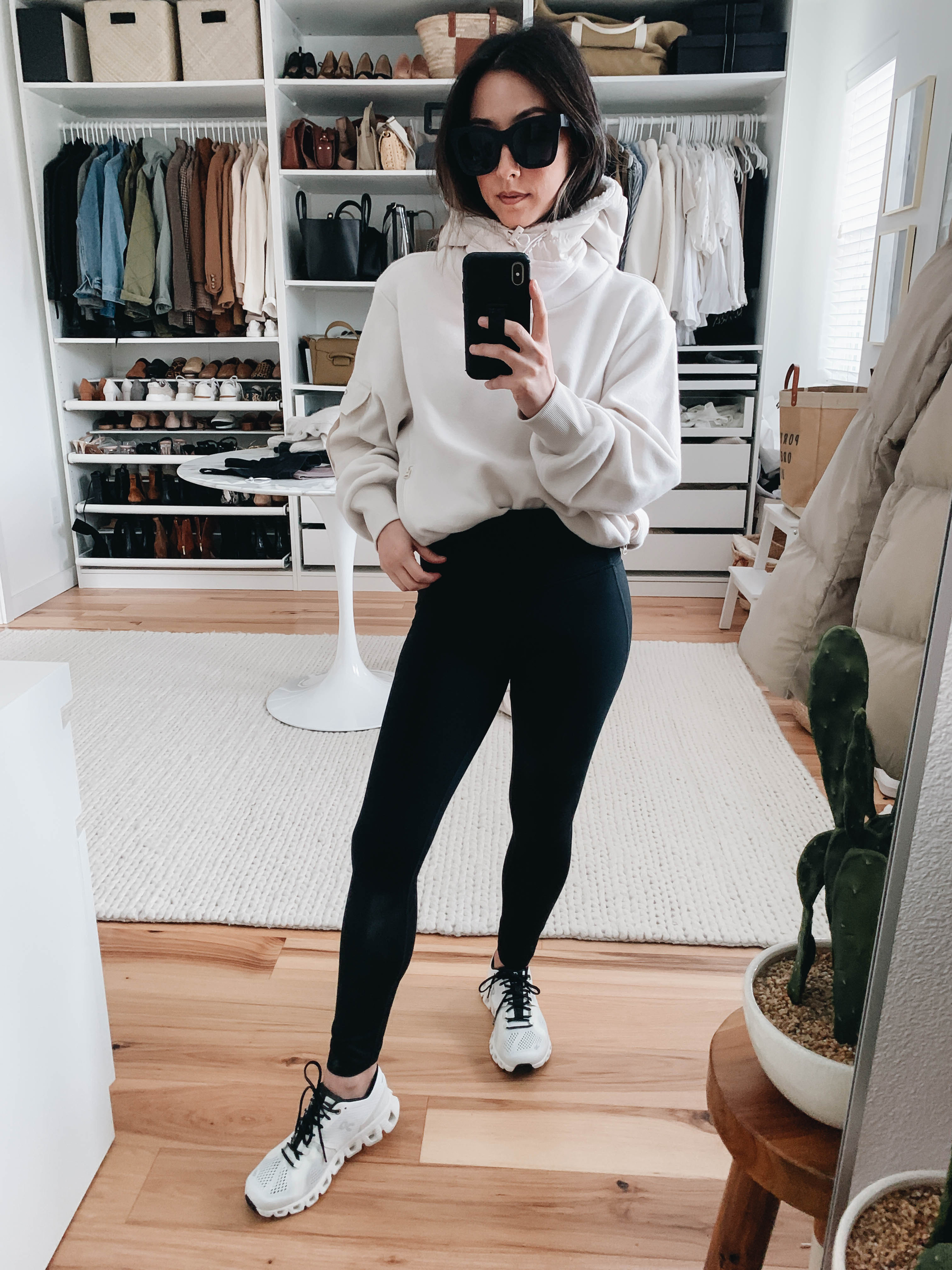 On Cloud Sneakers (6)- I haven't had these for that long, but I already know how I feel about them, lol. It's funny because I saw a few bloggers wear them before I thought about buying them, but didn't think I could get on board with the style. Seemed very clunky and different. Ha, wrong! I love these, they're so comfortable, lightweight, and the black and white is so chic and goes with everything. These are great to workout out in, take long walks, basically anything active (although I wouldn't run long distance in them). I went up a full size in these.
AGOLDE Parker Denim Shorts (24) – I now own 5 pairs of these shorts. When I find something good, I go all in. The fit, the look, the quality – I couldn't recommend these more. I like my shorts looser around the waist and thighs and I would say these run TTS because they're perfectly comfortable – not snug and not too short. All washes fit differently, so keep that in mind.
Necessaire Body Lotion – I originally bought this during the NAS last year – everyone was trying it and I absolutely loved the branding. Well, I'm very much obsessed with their body lotion. It's creamy and hydrating without a strong scent or feeling sticky. I'm very picky when it comes to my body lotion, and I put it on after every shower, so I have a lot of experience with body lotions, lol. This one is VERY good.
Barefoot Dreams Throw Blanket – I finally took the plunge on this blanket last year and it's one of the best purchases, ever. In fact, Harper actually uses it as her comforter in bed now. She loves how cozy and soft it is. I really love this neutral color too. When Mike makes a comment on how amazingly plush a throw blanket is, you know it's a good purchase lol.
Supergoop Glow Screen – I first bought this during last year's NAS and didn't wear it as often has I do now that we live in California. BUT, I already knew I loved it when I first put it on. It's the best face sunscreen I've ever used and the glow it gives is absolutely stunning on my skin (has more of skincare consistency versus sunscreen). Now that we live in Los Angeles I wear this everyday and put it on after my skincare and before my makeup. Keep it mind it does have a tint to it and it does give you a glow. I know in some of the reviews, people don't love that about it. But on my skin tone (and Mikes – yes he uses it too) it evens out my skin and gives it a really pretty glow. If I'm running out of the house, I'll just put this on, and I'll be good to go. It's clean beauty, and a mineral sunscreen which is the best out there. I can't recommend this enough!
Zella Studio Lite Leggings (xs) – I've been a big fan of Zella leggings for a long time. Last year I finally tried their Studio Lite leggings and I love them even more than the Live In leggings. These are lightweight, but still suck you in. They're not as restricting as the Live In leggings. The length is perfect for petites and they have the pockets on the sides which I really love (great for holding your phone when you run). These hold up really well, too! For leggings under $75, I can't recommend these more. They just came out with a bunch of new colors, too!
---


Special thank you to Nordstrom for partnering on this post.