Nordstrom Anniversary Sale: Cole Haan Marina Boots Review
BP. hooded sweater (sold out, without hood) (On SALE), Zella leggings (On SALE), Cole Haan OTK boots (On SALE), Madewell zipper transport tote (sold out, similar), Shevoke Misha sunglasses, Michael Kors watch, David Yurman ring
S H O P  T H E  P O S T

I purchased these Cole Haan Marina over-the-knee boots last fall/winter and raved about them in this post here. They're currently on sale as part of the Nordstrom Anniversary sale (from $500 down to $329.90). There's only a couple sizes left in gray, but they actually come in black as well, which has sizes 7-11 still in stock. Out of every over-the-knee boot I've ever tried, these have been my favorite. The suede is beautiful and the 3.5" heel height make them extremely comfortable and easy to walk-in. There's a zipper on the inside of the boot that helps you pull them on, but even after a dozen wears, I still struggle with taking them off. I would highly suggest wearing some type of nylon sock to ease the on-and-off process. While they're tough to get off, I do like that the boot is slim, making them form fitting along my legs.
One of my biggest issues with most over-the-boots are their wide shafts. Not only do I have short legs, but I have athletic calves, so any extra width make my legs look too bulky and really unattractive. These Cole Haan Marina boots are extremely slim and hit at just the right spot for my height. One of the first things I noticed when I tried them on was they don't overwhelm my frame, which is my biggest concern with over-the-knee boots. They fit true to size and while the price tag is quite high, they've proven to be worth every penny. This will be my second fall/winter wearing them and they still look brand new. Plus they're classic shape and color make them extremely versatile and a timeless style that won't go out of style.
S H O P  P E T I T E  F R I E N D L Y  O V E R – T H E – K N E E  B O O T S

M O R E  W A Y S  T O  S T Y L E  T H E  C O L E  H A A N  M A R I N A  O V E R – T H E – K N E E  B O O T S
Click for the original post
 Click for the Original post // Click for the Original post
What to Look for in Petite Over-the-Knee Boots
Look for a shaft circumference between 13" and 14". Anything larger will probably be too big.

Look for a boot shaft between 21" and 24". You don't want the boot to hit at an awkward spot on your thigh (it ends up being uncomfortable). This also depends on how you like to wear your over-the-knee boots. Try some on and see which height is most comfortable for you.

Make sure the leather/faux material around the ankle and calf are not too thick. You don't want to look like you have cankles or tree stocks for legs.

Look for boots that are the same width throughout the shaft. Those that flare out at the top tend to make your legs look wide and swallow you up.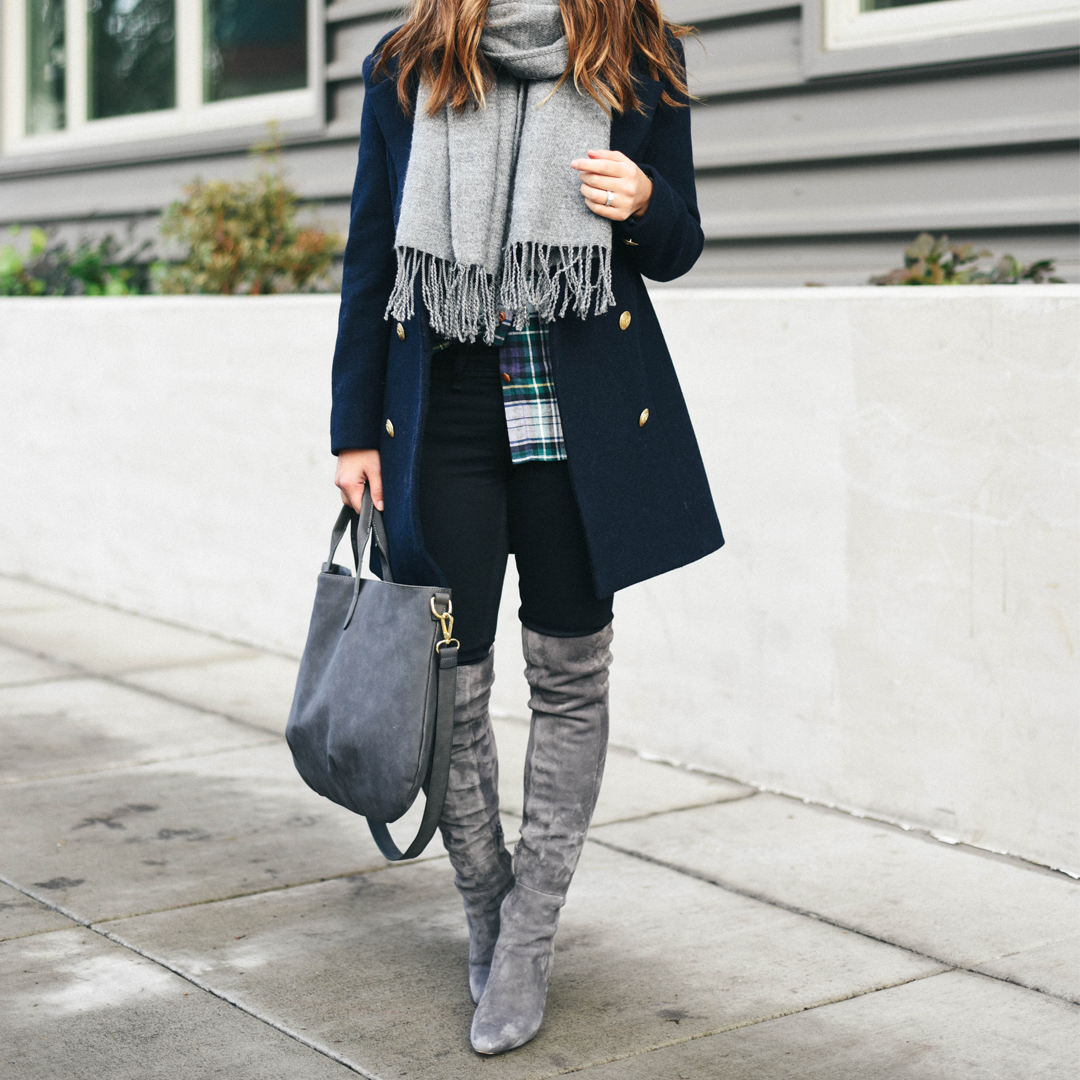 Click for the original post
Click for the original post
Other Favorite Over-the-Knee Boots
Stuart Weitzman Highland Over the Knee Boots – I've heard great things about these boots from all sizes and heights. The calf circumference ranges from 12'-15' depending on your shoe size and it also stretches to your calves. The signature back ties on the Stuart Weitzman OTK boots really help keep the shafts from falling down, which happens to be an issue with many over-the-knee boots. The classic shape and superb quality make these an investment that will last you a lifetime.
Halogen Noble Over the Knee Boots – I heard these are a great option for petites. Narrow through the shaft and a great price range.
Joie Jemina Over the Knee Boots – I have these from last season in a taupe color. The shaft runs higher than my Cole Haan Marina boots, so if you're taller than 5', these should be fine. Super soft suede with a slightly pointed toe. I noticed the shaft stretched out over time and started to fall. Unless there were some changes from last year's style, that's something to note about these.
Nine West Uptown Girl Over the Knee Boots – Under $180 and comes in black and gray. 22" boot shaft and a 13"-15" circumference.
Charles by Charles David Paso Over the Knee Boots – Under $150 and comes in black, gray, and merlot (perfect for fall!). Heel height 4 ¼" (which is pretty high) with a 22 ½" shaft height and 14" circumference.
S H O P  T H E  B E S T  O V E R – T H E – K N E E  B O O T S