My Newborn Essentials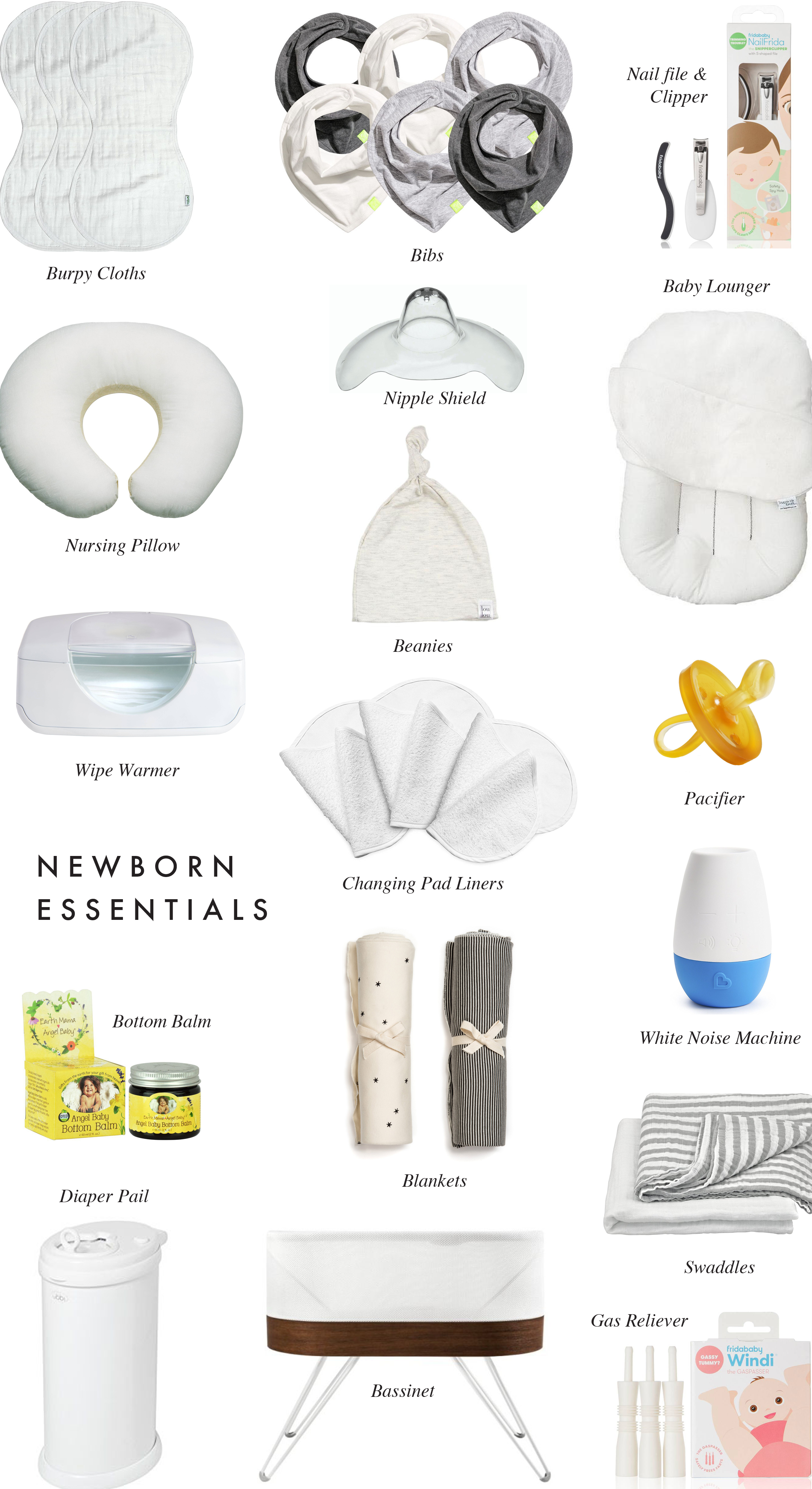 I've received a ton of requests to do a post on my newborn essentials. It's taken me a minute to get around to it, but it's finally here! Right when we brought Harper home, we realized there were some items that we're needed so much more than others. Even though we had nearly everything (hello type A personality and being over prepared), we needed to make a couple Amazon Prime orders to stock up on the most-used items. My brain is still in a haze these days, so I may be forgetting some things, but for the most part, this is my list. Below I'm sharing what and why each item has been an absolute essential.
I will be sharing a post on everything we registered for and use in a later post, so stay tuned for that!
Green Sprouts Burp Cloths – You guys warned me I would need a ton of burp cloths, but I had no idea. We go through those like it's our job. No joke, 2 days into bringing Harper home, we ordered a bunch more. We have some from Burt's Bees Baby as well as Green Sprouts. We definitely love the Muslin ones from Green Sprouts. They're soft, big, and sit on your shoulder nicely. We place them down wherever Harper goes after her feedings. They've saved us from washing all her linens.
H&M Bibs – To help keep all her whites white, we've been using bibs to help with her spit ups. Harper drinks super fast, so she tends to have a couple spit ups after every feed. We're working on it, but in the meantime, bibs have saved a lot of her clothes, our clothes, our bed, and everything around us. Luckily, I ordered a handful of bibs from H&M early on in my pregnancy, which run a bit small, making them perfect for right now.
Fridababy Snipper & Clipper – Harper has the sharpest nails and she's already done damage to her face. We've clipped her nails once and have filed them 2-3 times. Both the filer and clippers are baby-friendly and easy to use. If you don't have or want your baby's hands in mittens 24-7, these are a must-have!
Boppy Nursing Pillow – We use this nursing pillow for every feeding. I've become so accustomed to it, nursing without it feels super foreign (we had to make due while at my aunt's house the other day). I've noticed my small frame and hands are a huge disadvantage when trying to get a hold of a 20 inch baby. So, the Boppy support is a huge help. I have this cover on it.
Medela Nipple Shield – Harper struggled with nursing when we were in the hospital, so the Lactation Specialist introduced us to a nipple shield early on. I also have one inverted nipple, so having the shield has been amazing. This has also prevented any sore and painful nipple pain. We'll slowly wean her off, so that she can be on the nipple itself, but these have been a blessing so far.
Snuggle Me Sleep Lounger – We got this as a gift (thank you, Natalie!) and we couldn't love it more. We don't co-sleep, but it's been nice to have it when she naps in different parts of the house. It literally hugs her body, so she's super snuggled and comfy. It's also SO soft! We did use it in bed once for part of the night when we were desperate, lol. Whether you co-sleep or not, it's a great piece to have on hand.
Lou Lou Company Beanies – Temps are pretty cold, so Harper is in a beanie quite a bit, especially if we leave the house. I had a handful of newborn beanies, but nothing really fit that well. After a couple days, I did some research and ended up ordering a bunch of newborn beanies from Lou Lou & Company. They specialize in newborn sizes and I heard nothing but great things. Not only do they fit, but they're incredibly soft and have the cutest prints!
Munchkin Wipe Warmer – We were going back and forth on a wipe warmer during my entire pregnancy. I'm not big on getting any extras, but with giving birth in the winter, I thought this could relieve some discomfort and smooth out the changing process. We ended up ordering this after we got home from the hospital. I saw how annoyed Harper got with cold wipes in the hospital, so it just seemed like a no brainer. I did some research and went with this one just because it was all white and had good reviews. So far, we have no complaints.
Boppy Changing Pad Liners – This was another product you all suggested I stock up on. These were on our registry and we got a couple, but once we got home from the hospital, we ordered a ton more. We place these on top of the changing table cover to protect it from any accidents. Let's just say, it's done it's job countless times already. We've had several diaper explosions already, and instead of ruining our nice covers, the liners take the abuse. Thankfully, we can throw them in the wash or toss them if they're too bad. Life savers for sure! We maybe have 9-12 of these on rotation. A must-have in my opinion!
Naturesutton Pacifier – I was initially attracted to these for their neutral color and simple design. Once I looked into them further, I realized the brand is all about toxin-free baby products, which I'm all for. Unfortunately, the newborn size is sold out everywhere online, but thankfully, I found them at a local boutique in Portland. I got both the round and ortho styles to see which she would take. So far she likes the ortho style. We were hesitant to introduce a pacifier so early on (because of nipple confusion, etc.), but the pacifier has been a huge help with Harper's self soothing. She's a big suckler, so even when she's not eating/hungry, she enjoys sucking on a pacifier or her fingers. The pacifier plus the shush machine as been golden so far.
Earth Mama Angel Baby Bottom Balm – I ordered a bunch of products from Earth Mama during my pregnancy. I love that they use organic ingredients and stay clear of artificial and nasty additives. This balm has been awesome. I wouldn't say Harper has had any bad cases of diaper rash, but when we do use it, it clears anything up within a day. It comes in a small jar, but a little goes a long way. I made sure to bring this to the hospital, so we could start using it right away. We love this so much, I bought another jar just for our diaper bag.
Kid Wild Blankets – These are sold as swaddles, but I actually prefer them to be used a blankets. They're thick with good weight, super soft, and high quality. They're my absolute favorite blanket/swaddles we own. Pricey, but worth it. The neutral colors are an added bonus. We've used them to cover Harper while she's sleeping, in her carseat when we leave the house, and even over the carseat while we're out.
Munchkin White Noise Machine – I didn't get this Munchkin white noise machine until last week, but it's been a life saver. There's white noise on the Snoo, which has helped since we brought her home, but she doesn't sleep in the Snoo for all her naps. I noticed when we shush Harper when she gets fussy, it really calms her down. So, I did some research and found a couple shushing machines. I liked this one because it has 3 different noises (shushing, heartbeat, and white noise), it's aesthetically pleasing, has great reviews, and is fairly priced. Harper naps a lot better when we play this. If your baby responds to any of these noises, I would highly recommend this. I also love that it's small enough to take on the go!
Green Sprouts Swaddles – We have a ton of swaddle blankets from different brands, but until you actually swaddle your baby, you don't know which ones you prefer. So, after getting some practice, we decided our favorites have been the Green Sprouts swaddles. I didn't love them at first because they're pretty lightweight, but they swaddle really well and since she's wrapped so many times, I don't have to worry about her being cold. They're just the right size (not too big or too small) and you can get these really snug. This was another product we ordered again after getting home from the hospital.
Ubbi Diaper Pail – If you don't have a diaper pail on your registry, change that. This Ubbi diaper pail is aesthetically pleasing as well as does a good a job in holding in all odors. We placed ours within reach of the changing table and the lid is easy to open with one hand. So far, we love this! Our only minor complaint, it's fairly small (could easily be taller to hold more).
Snoo Bassinet – I wouldn't say this is an absolute essential for everyone. We've used it a ton, so I have it on this list. I will do a dedicated review on this per your request, but for now I'll say, Harper sleeps in the Snoo every night and her parents are happy. I don't know if it's the white noise, or the movement, but it's been working for us. We also don't have anything else to compare it to (so keep that in mind). Harper is also fine with self soothing and being set down once she's tired and about to sleep (or even sleeping). I know not all babies are like that. Once we spend more time with the Snoo, I'll be sure to let you know our overall opinion and whether it's worth the investment.
Fridababy Windi – This came in a newborn kit we registered for and we're so lucky we hand it on hand. One night, Harper was crying uncontrollably. We realized she had gas stuck in her tummy and I remembered we had the Fridababy Windi. This product relieves gas and boy did it work. It took us 2 tries to get everything out and once we did, Harper was sound asleep. Another life saver for sure! An absolute must-have for new parents.
L'oved Baby Footed Overall with Mittens – I'm so thankful I stocked up on these right before I gave birth. They run small, so they fit extremely well after about a week of coming home (the newborn size is now almost too small). Harper sleeps in her Snoo every night and the swaddle that goes with it has mesh material down by the legs and feet. Because of the more airy material, I like her legs and feet to be covered and the L'oved Baby footed overalls are perfect. They also have gloved hands, which have been a lifesaver. Despite cutting and filing her nails, Harper has done a number to her face on several occasions. I think it's based on parent preference, but gloved footies have been our favorite… although Mike prefers zippers to buttons.
SHOP THE POST