Wedding Wednesday: Picking Bridesmaid Dresses and Groomsmen Suits
One of my favorite yet daunting task while wedding planning was finding the bridesmaid dresses and groomsmen suits. I really wanted the bridal party's look to reflect Mike and my style and set the tone for the day. Since we were going for that whole casual, laid back, winery feel, I immediately thought floor length, flowy dresses for the girls and something casual yet stylish for the guys. I was also adamant on keeping everything super budget-friendly. Being apart of someone's wedding can get really expensive (bridal shower, bachelorette party, bridesmaid dresses, etc.), so Mike and I worked hard at keeping costs down without sacrificing style.  With that being said, it wasn't easy.
We came up with the wedding colors pretty fast, which helped me get an early start on deciding on the colors of the bridesmaid dresses. I went back and forth on whether or not I wanted everyone to wear the same dress in the same color or mix and match. Since price was a huge factor, we ultimately decided to have everyone pick their own floor length dress within the nude, beige, and blush color scheme. I say they got to pick, but really, I was the one searching for the dresses and sending them a ton of annoying emails (I'm a control freak). I ended up buying a couple of dresses to have them try on. Once I had some of the dresses in-hand, I was able to see what colors we needed to balance out the color scheme (I wanted a hint of blush with the rest being neutral nudes and beiges). The last few dresses were hard to find. I think one of my girls didn't get her dress until 1 month before the wedding. I also never saw all the dresses together until the actual day. We took a risk, but it all paid off. In some of the photos, the dresses look more blush, but I'd say it was more neutral in person. Without a doubt the perfect combination for an outdoor winery wedding. I couldn't have been happier with how the girls looked!
The groomsmen suits were one of my favorite details about our wedding. After looking through wedding photos on Pinterest and Style Me Pretty for inspiration, it appeared most of the time the guys were kind of ignored. Too often you see the guys in poor fitted rental suits while the girls are dressed to the nines (WTF?). Mike is all about fit, so I knew from the start we were on the same page in terms of the look for the guys. I also randomly asked Mike how he felt about a chambray suit for himself, and to my surprise, he was all for it. I think Mike's suit was the first thing we bought while wedding planning. We knew it would be hard to find chambray suits for the groomsmen, so we were willing to compromise and have them wear something in the same color family and style. Long story short, we actually found matching chambray suits at J.Crew Factory for under $150 (cheaper than rentals). We thought we hit the jackpot. Sadly, the suits arrived in two different color chambray colors (the jackets didn't match the pants). We worked with J.Crew Factory customer service to try and fix it, but they weren't able to correct their mistake. Luckily, they offered up another suit. Not chambray, but a gray/blue linen suit that worked perfectly. A stressful process, but it totally paid off. Not only did the guys look super stylish and great alongside Mike, but the suits were custom tailored to them, they own them, and they paid under $150!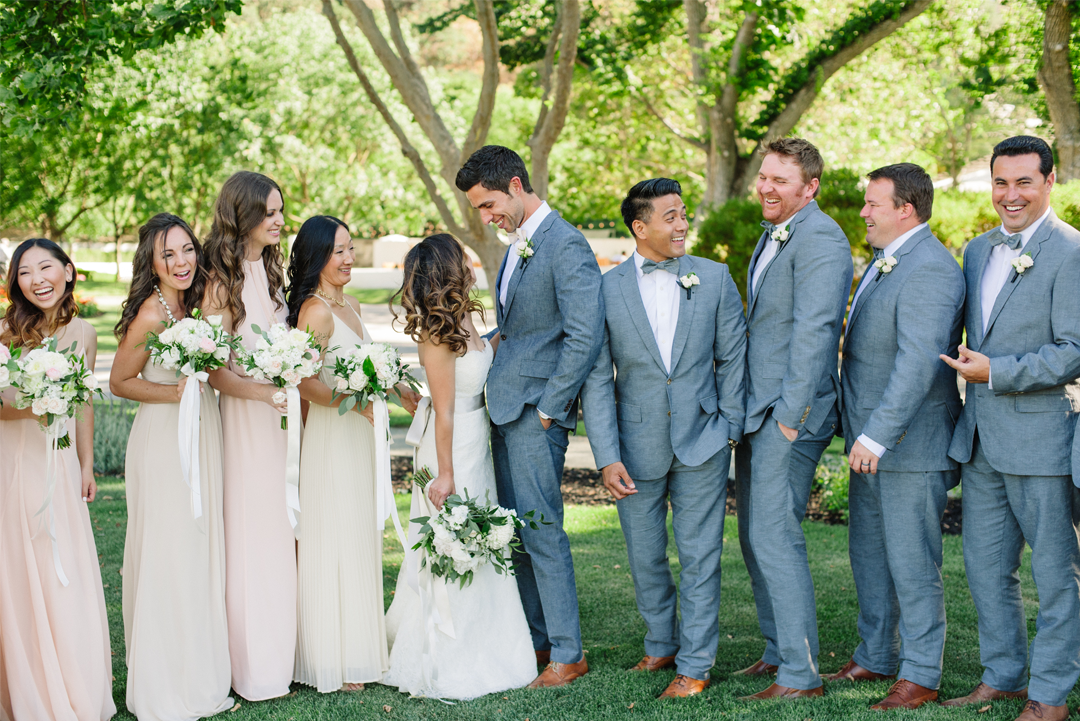 My biggest tip for any of you planning your wedding- your bridal party can look amazing on a budget. It just takes time, patience, and work. Also, think outside the box. You don't have to go with the typical bridesmaid dress and don't be afraid to look at regular retailers for your dresses. Another tid bit. I wasn't able to find the last bridesmaid dress and it was coming down to the wire. I was so desperate, I stopped into David's Bridal and luckily I found a chiffon dress in the perfect color. I was so hesitant to buy anything at DB, but the dress was actually my favorite color of the bunch and looked great on my girl Nathalie. As for the guys, finding groomsmen suits is tough. Be on the lookout for sales and think about the season you're getting married in and match it with the style and material of the suit. J.Crew Factory a great resource and the best part, the guys get to keep their suits.
One last thing, start your search early. You want to check this off your long list of to-do's asap.
S H O P  N E U T R A L  B R I D E S M A I D  D R E S S E S


R E S O U R C E S  F O R  B U D G E T – F R I E N D L Y  B R I D E S M A I D  D R  E S S E S :
Forever 21, Asos, Missguided, David's Bridal, Lulu's
B R I D E  +  B R I D E S M A I D S  D E T A I L S
Wedding Dress: Bliss By Monique Lhuillier, Bride's Shoe: Valentino, Makeup: Priscilla Francine Makeup, Hair: Nora Artistry
Bridesmaid Dresses (1st photo left to right): Asos, Asos (sold out),Victoria Secret (no longer available but found it on ebay), David's Bridal (champagne), Forever 21 (I actually have another one, size S. If you're interested, email me)
Bridesmaids Hair:Nora Artistry, Bridesmaids makeup: Nicole Dethier
Jewelry: Sweet & Spark and J.Crew Factory
G R O O M  +  G R O O M S M E N  D E T A I L S
Groom's Suit: J.Crew Chambray suit, Groom's Shoes: Cole Haan, Groom's Bow Tie: Make My Day
Groomsmen Suit: J.Crew Factory gray/blue suit, Groomsmen Bow Ties: J.Crew Factory, Sunglasses: Ray-Ban Classic Wayfarer
P H O T O  D E T A I L S
Venue: Wente Vineyards // Photography: Christine Sargologos Photography //Photography Assistance: Kayla Fletcher // Floral Design: Huckleberry Karen Designs